Welcome to The Chocolate Roost, your one-stop-shop for amazing gourmet chocolates, truffles and nostalgic candy!
 At The Chocolate Roost, we believe that quality and taste go hand in hand.  We're dedicated to providing chocolates and sweets that are not only delicious but visually stunning and made from sustainable USA companies! 
Whether you're looking for a special gift or just something to indulge in, we have something for everyone. Our selections include more than 50 varieties of gourmet chocolates and truffles in the pick your own chocolate case, a rotating selection of flavored fudge, seasonal chocolate flavors, boxed Fowlers Buffalo Sponge Candy, chocolate espresso beans as well as a nice variety of sugar free chocolate flavors as well.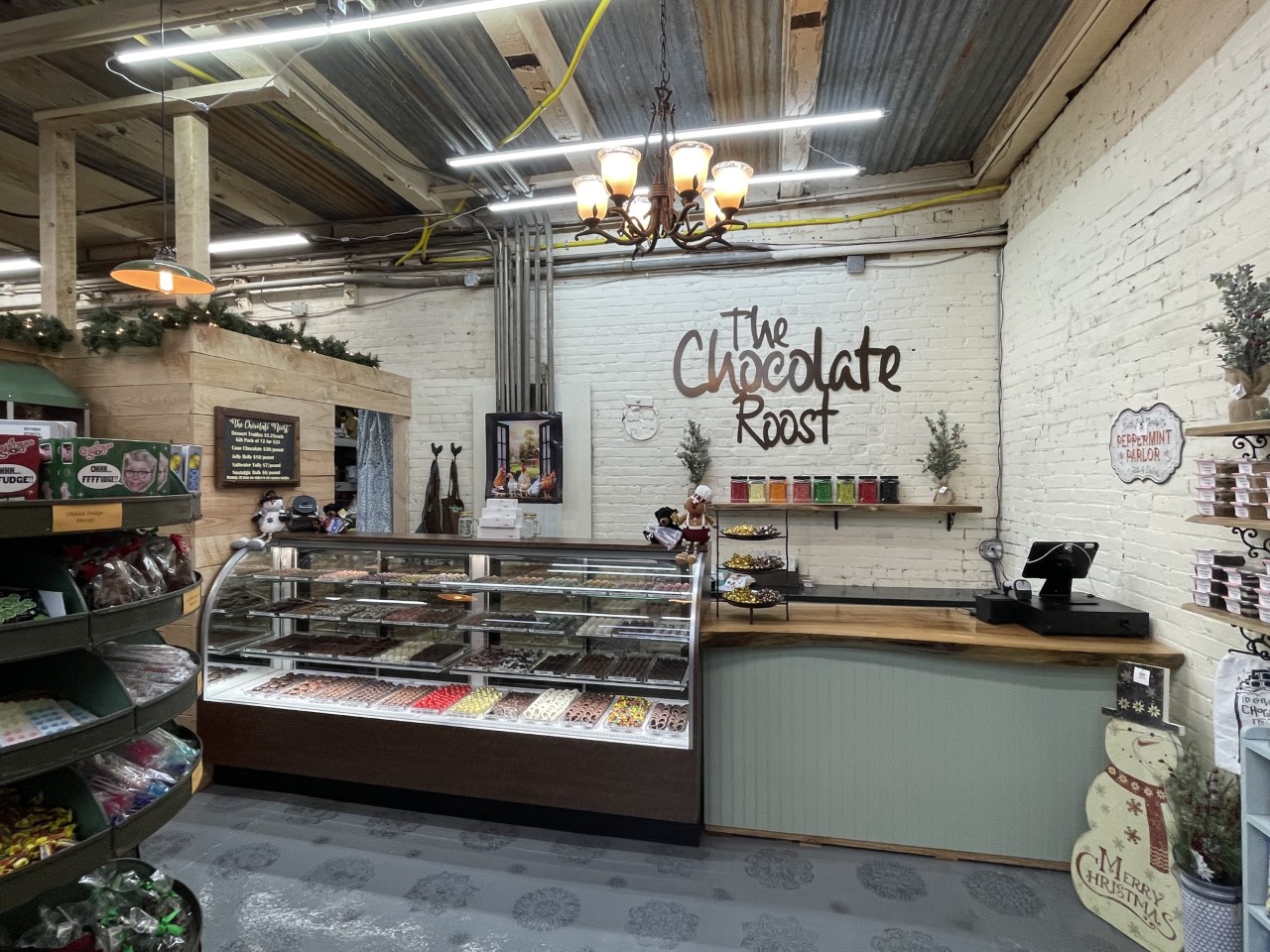 If chocolate is not your thing or you want to round out your sweet tooth cravings we have other bulk offerings as well like: ten flavors of Jelly Belly brand jelly beans,  a dozen flavors of saltwater taffy, and nostalgic favorites: rootbeer barrels, lemon heads, bit o honey, sugar free fruit hard candies, jawbreakers and more!
You can also venture back to your childhood with great nostalgic items like cracker jack, nik l nips, pop rocks, sugar daddy, candy necklaces, rock candy, mallow cones, peanut brittle, candy buttons, wax lips, black jack or bazooka bubbegum, charleston chews, whistle candy and lollipops – and we're always adding new varieties of these fun favorites to try!
The Chocolate Roost also offers other favorite food items like Finger Lakes Coffee, Amish Country Popcorn, local honeys and syrups, Gourmet Creation Dip Mixes and Little Big Farm boxed bread and dessert mixes!
We take pride in providing exceptional customer service and want to ensure that every visit to The Chocolate Roost is a memorable one. Our friendly staff is always happy to help you select the perfect chocolate or sweet treat for any occasion, and we're more than happy to answer any questions you may have. 
We also offer custom gift baskets and party favors that can be tailored to your specific needs. Whether you're planning a wedding, baby shower, or corporate event, we can create something special for you.
So why wait? Indulge your sweet tooth today with The Chocolate Roost's delicious treats. We look forward to welcoming you to our shop right inside the Rusty Rooster!